It's happening folks, the migration to the cloud. Over the last decade, the cloud has become one of the most defining transformation challenges to IT. Gone is the day of monolithic applications, with all the servers in a single datacenter. Often, the application isn't even managed or owned by the organization using it. Organizations need to take a hard look at their existing applications, and what makes sense to migrate to a cloud, from hardware to application and beyond. And, there is not just one type of cloud to migrate to… Public clouds like Oracle, Amazon and Azure, and private clouds leveraging the same technologies that the public clouds use, but with the control and security of your datacenter, and the new generation of hybrid cloud technologies like the Oracle Exadata Cloud machine that puts the public cloud into your datacenter. Add to all of this, the complexity of managing and monitoring these environments as IT spreads across these various platforms. How can you manage all of this?
There is a way now, and surprise it came from a company that has focused on heterogeneous enterprise IT problems for quite some time… Oracle! For years, Oracle has had a tool called Enterprise Manager, and versions 12 and 13 have done a great job of managing databases and related infrastructure inside the datacenter, but there are challenges in a diverse environment, and that is where the new Oracle Management Cloud (OMC) comes into play. While OMC provides a ton of services similar to Enterprise Manager, it enhances the abilities with new approaches to solving the existing challenges of IT, at the same time resting on a foundation that works well with modern application design. OMC has four basic areas on which it focuses. These include Application Management, Infrastructure management, Security Management and IT Orchestration. OMC offers many different building blocks, that all work together to support these four core aspects of IT.
This is done though a single agent that is deployed to the clients, called the cloud agent. The beauty of the cloud agent, is that it gathers data from the systems on which the agent is deployed, regardless where those systems reside… on-premises or in the cloud., The agents then report back to the OMC systems which reside in the Oracle Cloud. The cloud agent can also be augmented with a few specialty plugins that can gather data from Enterprise Manager, or direct from the application server JVM, and more. A key differentiator, is that OMC enables the consolidated monitoring across logical and physically separated components. Complex environments that are spread across multiple cloud providers and on premises datacenters can be easily monitored and secured.
Currently there are four building blocks available today;
Application Performance Management – Within minutes you can monitor and report how users interact with your application, what their performance is and how the application internals are performing. Rapidly discover problem areas, without having to rebuild your monitoring every time the application changes, OMC automatically learns the architecture. You can also monitor ANY web based application (including SaaS offerings) through the ability to perform complex synthetic transactions using sessions recorded with Selenium, a free browser automation tool.
Infrastructure Monitoring – Provides similar functions as Oracle Enterprise Manager, but can be deployed across your entire IT landscape, regardless where the infrastructure lives. Because this in integrated with the other building blocks, you can understand what infrastructure is important to the topology of the application you are looking at.
Log Analytics – Logs are everywhere. from application specific logs, hypervisor logs, OS logs, security logs and more. Consolidate all your logs into a single system, and using Big Data technologies quickly coordinate events across every tier of your application and infrastructure. Identify the root cause of outages quickly.
IT Analytics – Challenged understanding what resources are being consumed and what systems are resource bound? Do you need to know what your resource consumption is, so you can plan for the future requirements? IT Analytics provides insight into the availability, performance and capacity of all your application and infrastructure systems. This enables truly enterprise views that IT executives, Business Analyst and managers can use to make critical decisions
And at Oracle Open World 2016, three more building blocks were announced, and should be available in the near future;
Orchestration – Automation is key and having the ability to automate tasks across the enterprise is essential. See a CPU constraint on a VM using Infrastructure monitoring and automatically expand the CPU footprint. Detect an application bottleneck due to not enough application servers and automatically spin up a new Java instance. Now extend this across cloud providers with REST integration into third party management systems.
Security Compliance Management – Discover, score, report and remediate Security Compliance across your entire IT footprint. This building block can detect a compliance and remediate your systems regardless if they are on premises on in a cloud.
Security Monitoring and Analytics – A new way at looking at security, by focusing on user session awareness. Leveraging the best of Session Information and Event Management (SIEM) combined with User and Entity Behavior Analytics (UEBA) to monitoring how users interact with resources by leveraging machine learning to identify abnormal behavior.
Best of all, each of these blocks are integrated so you can focus on using the system, not building it! Coordinate OS log data, with database alert logs, application availability metrics to determine the true health of your critical applications and systems.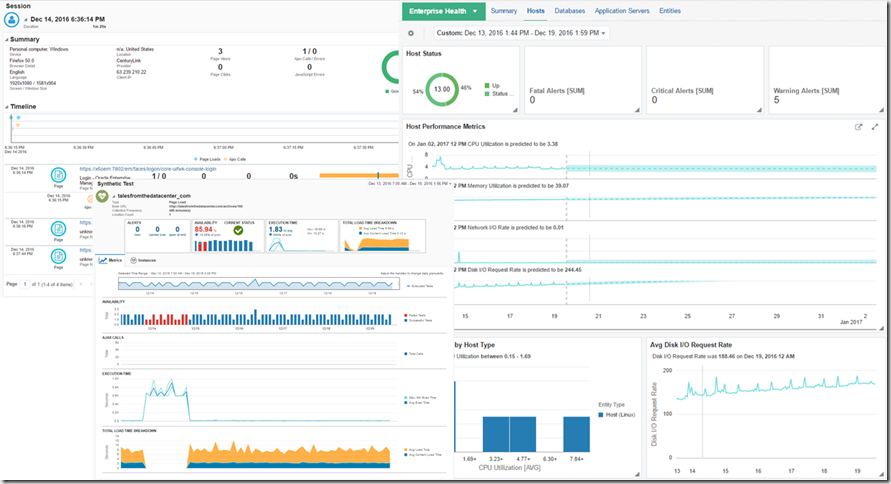 Oracle Management Cloud not only helps maintain the health of the applications, but it also aids capacity planning and integrated security enabling critical insights that were impossible to see before. This is definitely the next generation of IT management tools, and if you have a few minutes to take a look, you will like what you see.
**NOTE This post has been cross posted to the Mythics BLOG http://www.mythics.com/about/blog/how-do-you-manage-your-cloud-strategies-for-public-private-hybrid-cloud