While often overlooked, there is a ton of value in Oracle's x86 servers. One of Oracle's main value points, is their lack of nickel and diming you for firmware features like the other x86 vendors. This includes a truly Enterprise Integrated Lights Out Management system, Oracle VM for free, Oracle Linux for free and more freebies! One of the features is a rich featured internal RAID controller. With the X7 series, you can now manage the RAID from the BIOS setup interface.
In this example I will mirror a pair of boot disks, but keep in mind, other options like RAID5 and RAID6 are also available. To do this, kick off a Remote Console, and then boot the server. While the server is booting, hit F2 to enter the setup mode.
Once in the BIOS navigate to the Advanced menu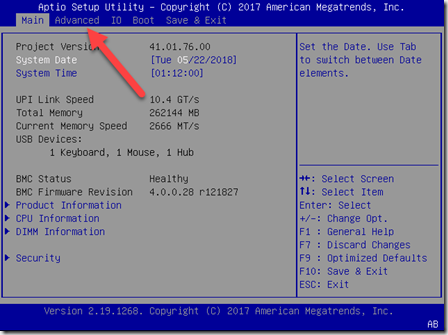 And then navigate down to the AVAGO MegaRAID Configuration Utility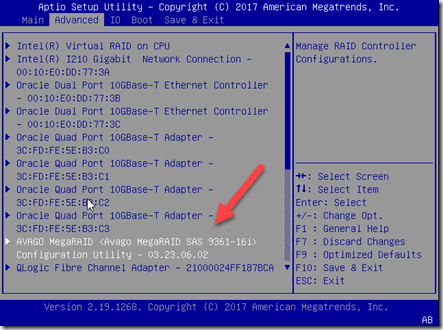 From here you can delete virtual drives, and create virtual drives. The default configuration on a new server will have a virtual drives created for each physical drive. I understand why Oracle dies this, but it would be nice to have two drive systems automatically mirrored by the factory.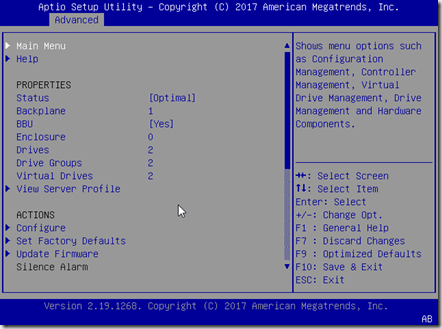 The first step we will do is delete the existing drives, navigate to the Configure option, and then select the "Clear Configuration" option.
One odd feature in he new firmware is that any time you agree to an action, you first must enable the Confirm option before selecting yes. This does keep folks from just clicking though and accidently making a change, but for advanced users it can become annoying.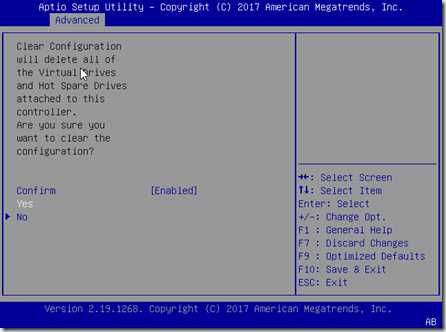 Next, after the config is wiped, go back up a menus and then back into Configuration. You should now have the option to Create a Virtual Drive, which you need to select. Optionally you do have the option to create a more generic RAID configuration using the "Create Profile Based Virtual Drive" option.
When creating a RAID volume manually you will need to select the RAID level, drives and parameters manually. For this configuration I am selecting RAID1. You will also need ot manually select each drive for the virtual drive by selecting the "Disabled" option for the drive and changing it to "Enabled".
Optionally you can scroll down and select all the drives. When done, scroll down to the bottom, where you can Apply Changes.
You can then change the other parameters to meet you needs. When done, you will need to "Save Configuration". Why change parameters you ask? Some workloads, like database perform better with different Segment sizes, cache settings etc.
When done, you will get a summary of the new config,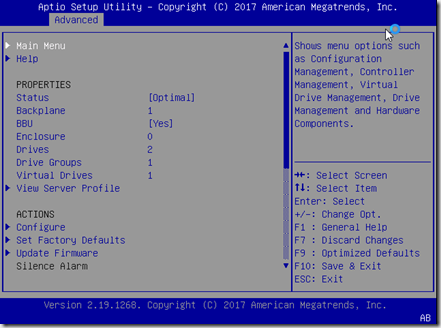 You can also scroll down and check on any jobs running. When initializing very large RAID5/6 volumes, it may take a few minutes.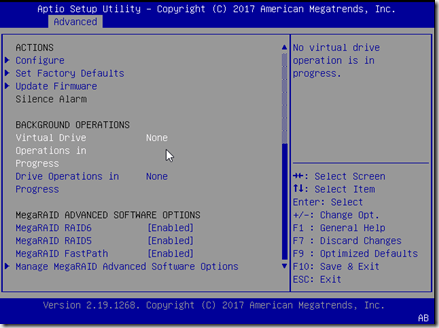 Hopefully this helped you figure out how to access the internal RAID controler, and build your volumes. Next up, installing an Operating System on the X7 server.