Bags packed, and headed out to San Francisco this October? Oracle Open World 2017 is starting up in a few days. This year expect more focus on Cloud technologies, especially self managing databases, and how machine learning can be used to better manage technology.
As in past years, I have several sessions, starting on Sunday, October 1st. If you looking for me, the best way to to find me after one of these sessions. I also will spend some time at the Fujitsu Booth, and Mythics booth in Moscone Center South Exhibition hall, as well as at the OTN and User Group spaces. Both booth locations are marked on the map.
SUNDAY
Sunday is traditionally User Group Sunday, but this year Oracle is expanding it to also include customers presenting on their Oracle experience.
My first session, is the OAUG Enterprise Manager Special Interest group, where I will be talking about the Oracle Management Cloud Application Performance Monitoring service. This is on Moscone South room 208 at 1:45pm..Details here; SIG1077
In my second session, I have the pleasure of presenting along with a client NOVA University , about the Oracle Database Appliance and their experience. This starts at 2:45 in Room 153 in Moscone South. Details here; SUN2304
MONDAY
On Monday I will be sharing some insight on how Oracle Management Cloud can be used to trouble shoot application issues. I will be sharing some lessons learned, and have some real-world examples. This will be in Moscone West, room 2000 at 11am, More details are here; CON7056
TUESDAY
Tuesday continues with a short session at the Fujitsu booth, at 1:30pm. There I will be discussing how the M12 servers can help your agency or business save money, as I dive into both the SPARC technology and also how database technology is licensed.
WEDNESDAY
Wednesday starts with some time at the Mythics booth, and then a repeat at the Fujitsu booth at 1pm
At 2:45 I have a must attend session, where I will be discussing the changing role of the DBA in the cloud, and how new technologies can help DBAs transition to the new role of Cloud Administrator as new responsibilities beyond the database are added to the CAs role. This is Moscone West room 3022 You can register here CON1103 , but hurry up as the room if filling up quickly.Oracle mentioned that the room was almost full.
I wrap up at 5:30 that afternoon, with a session that will cover five ways that storage performance can be optimized with Oracle Engineered Systems. This is the Marriott Marquis in Salon 10. Details are here: CON6393
Wednesday evening wraps up with the OTN Blogger Event
As always will have a good selection of some some cool ribbons to hand out, all you have to do is ask me for one, and put it on;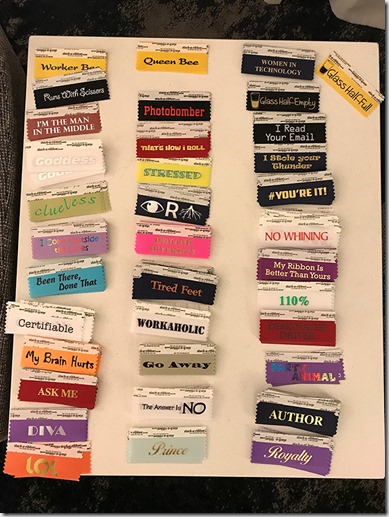 Most of them are just for fun.. but a few are reserved or must be earned. Also, for my Unix brethren, an custom ribbon showing your UNIX admin skill!