I have been recently working on a few interesting projects, one which requires sending emails from servers with some attached files, while using Office365 email. While trying to make things easier I started to look for a better way to configure email than sendmail or procmail and settled on ssmtp.
ssmtp is a light weight email system which can be used to configure outbound email from a server, and use a 3rd party relay system like google or Microsoft Office365.
To install it,all you need is EPEL enabled in yum, the run "yum install ssmtp"
Next, edit the config file /etc/ssmtp/ssmtp.conf, here is my sample file, with the email address and password hidden. This example sends email out via Office365.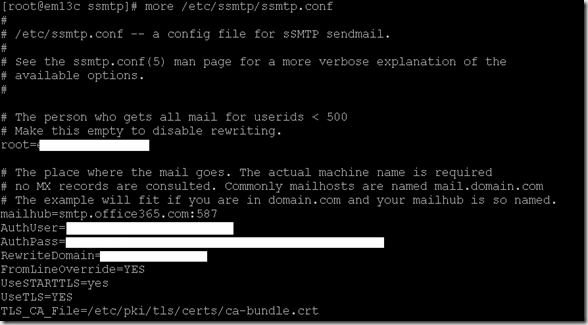 root is my email address
AuthUser is also my email address
AuthPass is my Office365 password
ReWriteDomain is my domain
I also used the alternatives command to make ssmtp the default email program

Next I just send an email. In this case, I am using mailx to send the dmesg file to run some diagnostics. I use the -r option to set the from address, and the –a option to attach the file.