I often get asked why Oracle doesn't include CDROM drives or old school VGA and PS2 ports on servers anymore. After all "Isn't a CD and keyboard needed to install an OS?". My answer to this, is unlike most commodity vendors, every Oracle server has a feature rich lights out management port included with the server for free, going back since the SUN days! Yes, free!
To access the remote console, you will need to have an IP address on the ILOM port, and a working ethernet cable plugging into the "Net MGT" port. The "SER MGT" port is the SERial port, not the SERver port, and yes many times I have had tech plug in ethernet cables into the serial port. It's an easy mistake to make.
Next log into the ILOM interface, and click on the Launch button next to the "Remote Console" test in the upper top left of the screen.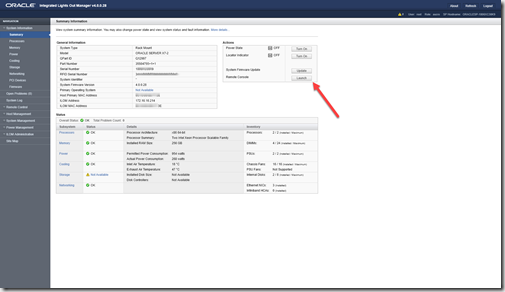 This will start the console download, which will require JAVA on your system. In the downloads. On a Chrome browser, it will appear in the bottom of the screen
Go ahead and accept the messages about launching a Java program. Once it's running it will look like this… a very small window on your desktop.
Next, we need to mount an ISO files as a virtual CDROM drive. ANY bootable ISO can be used, and in this case I will install Oracle VM Server. Another neat feature of installing this way, is that the server and the admin do not need to be at the same location. In my case I am in the Philly area and the server is in Atlanta! To mount and ISO, select Storage from the KVMS menu.
Next click on "Add" and navigate to the ISO file you are booting from. Once that is in the list, you will need to Connect the drive, by selecting the media and clicking on the connect button.
It's a common mistake to forget to connect the drive. I've done in a dozen times over the years when in a rush. Make sure you see the warning message before continuing.
Click OK to get back to the console.
Next, we need to tell the server to boot from the CD-ROM drive on the next boot. To do this, log back into the ILOM  and go to the Host Management Menu, and then to Host Control.
Under the Next Boot Device drop down, select "CDROM" and click save.
If you forget to click "save" the server will not boot from the virtual CDROM.
Finally power on the server, clicking on "Turn ON"
After a minute or two, your installer should start… and your installing normally