Hidden in the February 2016 release ( 12.1.2.6 ) of the Oracle Database Appliance (ODA) new Oracle VM feature is enabled, called Driver Domains. Driver Domains are a new way to manage storage on the ODA, and show significance disk performance improvements for guest virtual machines.For an idea on how much of an improvement, check out my post at the Mythics BLOG
In the original I/O model, all virtual disk images ( .img files) live in a shared repo on an ACFS file system in oda_base. The repository is then NFS mounted back to Dom0, and then shared to the virtual machine. This NFS mount is where much of the performance congestion comes from. This congestion could cause performance issues with I/O inside of VMs.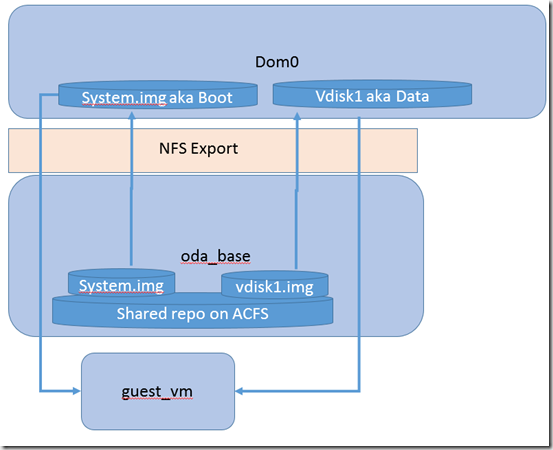 What is unique about Driver Domains, is that in Oracle VM there is the ability to bypass the second trip through NFS, by configuring the virtual disk to access oda-base using a Driver Domain enables the vdisk.img file to be directly presented to the VM. This eliminates the trip through NFS, improving performance.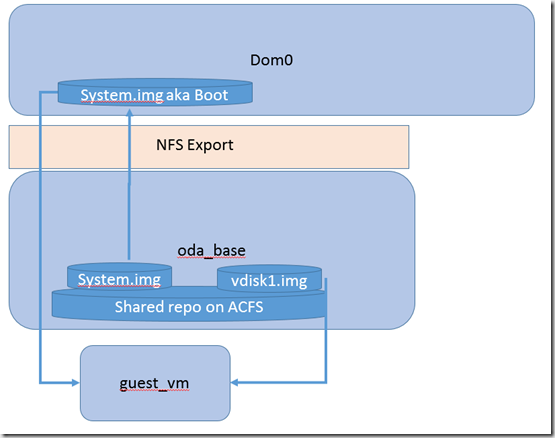 As with most things ODS, setting this up is very simple. You simply clone from a template to a new VM with the –driverdomain option. If you have an existing VM, you will need to first clone the VM to a template, and then use that to make the Driver Domain VM.
root@x5db1 snaps]# oakcli clone vm test -vmtemplate test -repo repo0 -node 1 –driverdomain
Cloned VM : test
Next we can add a new data disk, so we need to create it first;
[root@x5db1 snaps]# oakcli create vdisk ddspeed -repo repo0 -size 5G -type local

Created Vdisk : oakvdk_ddspeed
Next we mount it to the VM
[root@x5db1 snaps]# oakcli modify vm test -attachvdisk ddspeed

Configured VM : test. Changes will take effect on next restart of VM.
Now start the VM, and on the new disk, you can then create a volume group, or simply format a filesystem on it. Use this for the "performance" disk in the VM.
Hopefully this gets you started with Driver Domains on the ODA, any questions drop me a note in the comments.