It's that time of year again, time to pack your bags, grab a few spare cell batteries and head to San Francisco for Oracle Open World. This year I again have a very busy schedule! Not only am I presenting or assisting with several sessions, I also am showing off some Oracle Cloud technologies with live demonstrations at Moscone South! Demos at the booth this year will include several Cloud solutions including;

Electronic Procurement Information and Contract Subscription Service (EPICS2™):
In collaboration with with Transformation Management Group, Mythics will showcase how the Public Sector can standardize & streamline government procurement built on industry best practices.

Oracle Planning and Budgeting Cloud Service (PBCS):
In collaboration with GNC Consulting, Mythics will demonstrate key features/functionality of Oracle Planning and Budgeting Cloud Service, as well as an overview of lessons learned for a successful implementation.
Cloud Applications Empower Services Organizations:
In collaboration with Project Partners, Mythics will walk through common operational and financial transactions using Oracle Cloud ERP/PPM. Notable processes include project creation, budgeting/forecasting, time-expense management, costing, billing, supplier payables, financial tracking and reporting.

I also will be at the booht, and happy to show you how the Oracle Cloud can be used to easily backup both database and non-database workloads. The Mythics booth will also be giving away a Phantom 3 drone! I happen to own a Phantom one, and love it for taking pictures of things in hard to reach places.
Here is where you can find me, when I'm not running around presenting or in meetings, and yes I will have ribbons! (More on that down below)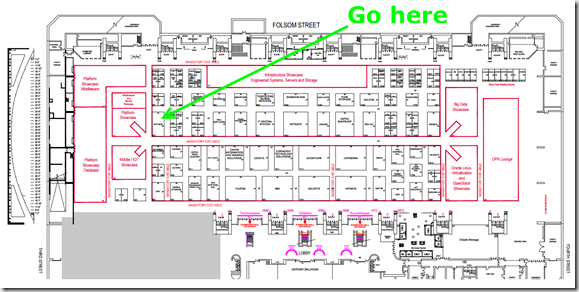 SUNDAY
This year is a good mix of Public Cloud and on-premise solutions, starting off on Sunday with the Oracle Cloud Experience, where I help you start your journey to the Oracle Cloud with this an intensive Hands On Lab session that will walk you through an Oracle Cloud services trial. Learn how to setup and configure the cloud and migrate data from an on-premise Oracle Database 12 implementation to the cloud. Create a storage container, set up OS secure authentication, and configure RMAN to use the Oracle cloud. Spots are limited, so please show up early! You can register for the event here; Cloud Experience: To the Cloud and Back [HOL3215]
Later Sunday afternoon, I am presenting a session with Charles Kim from Viscosity in Moscone West 3024 at 3:30pm that will go into more details on how you can backup both database and non-database workloads to the cloud. This session will go into how to configure your RMAN backups for Oracle database workloads, and also how to setup and use the Oracle Storage Cloud Software Appliance, a docker container that enables NFS access to the Oracle Storage Cloud, as seen in this diagram.
Register here; Back Up to the Cloud and Beyond [UGF5605]
MONDAY
On Monday I'll spend some time at the Mythics booth in between meetings, and will wrap up the day presenting on my favorite Engineered System, the Oracle Database Appliance at 5:30 in Moscone South 304.. In this session I will be talking about all the things you can do with a virtualized ODA, including some new technologies and I will also cover how companies can build custom templates to rapidly deploy applications on a large scale. This template technology is perfect for Independent Software Vendors that want to standardized on a common hardware platform for both their database and application tiers. Registration is here; Anything in a Box: Virtualized Oracle Database Appliance Unbound [CON2996]
TUESDAY
Tuesday is booth and meeting day, with several meetings through out the day. If your looking for me, I will be at the Mythic's booth and as always will have a good selection of some some cool ribbons to hand out;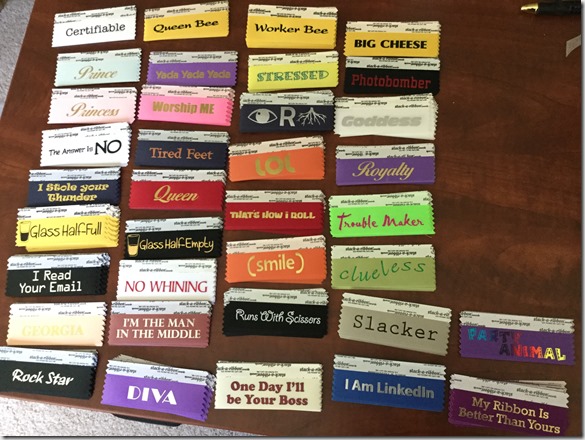 If you want a ribbon, all you have to do is ask. Most of them are just for fun.. but a few are reserved or must be earned. Also, for my Unix brethren, an custom ribbon showing your UNIX admin skill!

WEDNESDAY
Wednesday is my last day presenting, with two sessions about the ZFS Storage Appliance in the afternoon. The first session will cover several best practices to get the most performance out of your ZFS array when it is combined with an Engineered System. This will be at the Park Central Metropolitan III room at 1:30pm.
Registration is here; Expert Tips to Maximize Engineered Systems' Storage Performance: Three Proven Best Practices [CON2869]
My last session at Oracle Open World this is surprisingly enough, in the same room, just and hours and a half after the previous session, where I will cover several tricks and tips on running your database on the ZFS array. I'll also be introducing some new technology, so you better sign up for the session and attend… this one is zcool!
Registration is here; Top Five Tips for Deploying Oracle Database 12c on Oracle ZFS Storage Systems [CON2866]
Also always, this should be a great conference, with a ton of new product announcements from Oracle, that will introduce some new technologies that will helpo you run faster and cheaper in both the Cloud and on-prem. I look forward to meeting everyone in San Fran!